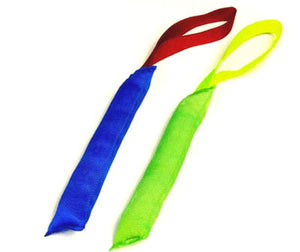 Wonder Stick 10"
The Wonder Stick is a dog tug toy that you and your dog will love! It has a smooth nylon webbing exterior, real sheepskin and polyester fleece stuffing, and a soft nylon handle. Scent stimulated dogs will love the smell of the fur, and bite stimulated dogs will really enjoy sinking their teeth into the bar. You'll love the comfort and control of the soft nylon handle. It's a great size for just about any dog!
Size: approximately 10" x 1.5". Available in assorted colors - please let us choose.
These are 100% made in the USA and guaranteed against any workmanship or material defects.