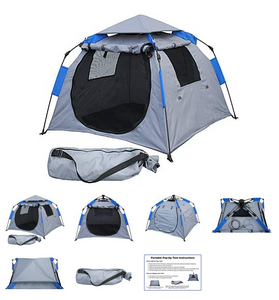 Portable EZ Dog Tent
Designed for the dog sport competitor who needs a versatile and portable dog crate that can be used in class, in hotels, and for indoor and outdoor trials.
Lightweight, sturdy, and sets up in seconds.
No assembly is required! Simply pull on the strings to pop the tent up.
Privacy flaps block the unwanted sun or rain.
Zippered storage bag makes it easy to carry the tent anywhere.
Made from durable, water-resistant fabric.
Dimension: 38"W x 38"D x 30"H, weighs 4.4 lbs.