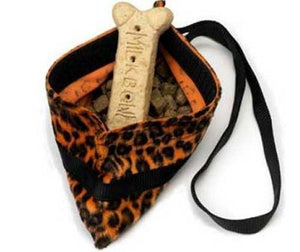 Tug N Treat Soft
Teach your food motivated dog how to tug or take! Great for agility and flyball training. Just put some of your dog's favorite treats in the pouch, and you're good to go! This tug toy is made with soft, but durable faux fur that dogs really love.
This toy is intended for dogs that won't or don't tug already. If you have a more experienced tugger, we recommend the Ultimate Jackpot tug toy instead.
The pouch has a Velcro closure and measures 3.5″ × 7″ with a 5/8" webbing handle. Available in assorted colors – please let us choose. Machine washable and resistant to rips and tears.
100% made in the USA and guaranteed against workmanship and material defects.