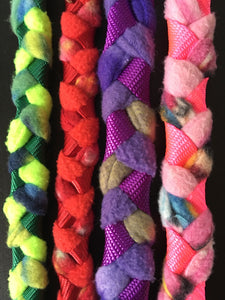 Slip Leashes ~ Braided Fleece & Handmade in the USA
Handmade Braided Leashes are made from braided fleece fabric with durable nylon webbing.  These come in a variety of popular colors and are great for agility competition, training, or everyday use. 
Ideal as a motivating "tug leash" for agility.  These are safe for your dog's teeth and comfortable for your hands.  
Mixed Colors (Multi) Choices:
Red Multi.
To select specific/custom colors, please contact us.
Size: approximately 5 feet long.
Slip Ring Hardware: choose from a regular slip ring for medium/large breeds or small slip ring for small breeds.
Care: hand wash and drip dry.