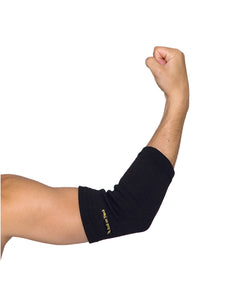 Elbow Brace for Tendonitis
Elbow Brace is a supportive, FDA-approved brace with all the benefits of Welltex technology.
If you suffer from tennis elbow or tendonitis from too much time spent in front of a PC, this brace will give you relief. The Elbow Brace with our state-of-the art, ceramic-infused Welltex fabric, which works with your natural body warmth to provide a gentle warmth. The ceramic powder reflects your own body warmth and creates a soothing far infrared thermal warmth. Warmth therapy is a well-recognized method used for improving blood flow and reducing inflammation.
For sizing, measure the circumference around your elbow 3" above the bend. We recommend a firm fit as the brace provides support as well.   
Choose From:
Regular Elbow Brace is designed provides more support.
Physio Elbow Brace is designed to provide a more comfortable four-way stretch, which allows more range of motion.
Sizes:  
XS
Less than 9"
Small
  9" - 10"
 
Medium
10" - 11"
 
Large
11" - 12"
 
XL
12" - 13"
 
Color:  Black 
Machine washable up to 86°F or 30°C. Use normal detergents that do not contain bleach or fabric softeners. Air dry only, do not tumble dry.
Back on Track products are not to be compared with magnetic therapy. The effectiveness of Back on Track's thermal warmth therapy has been established by medical science.