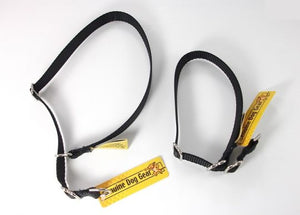 Humane Collar ~ Make Any Leash A Martingale Slip Leash!
The Humane Collar allows you to set the minimum opening size to protect your dog's neck and the maximum opening, so the collar will not slip off. It can be used with any of your favorite leashes to make a convenient slip leash.

Features:
Great for training multiple dogs-- adjust the collar to fit different neck sizes!
Easy on/off design makes it ideal for dog sports or off leash fun.

Use it with any of your favorite leashes for a convenient slip leash.
Works well with Long Line leashes for training.
No more fumbling around with snap leashes that get clogged with sand or dirt.
Includes a D-ring to attach to your own leash.
Made with 3/4″ nylon webbing.
Extends to about 23″ maximum size.
Small and Large Size can be adjusted to the minimum and maximum openings
Sizing:
Small fits all necks sizes up to 15"
Large fits all neck sizes up to 22"
Note: When using the Large size with a smaller dog, the loose end will be longer and might drag on the ground.