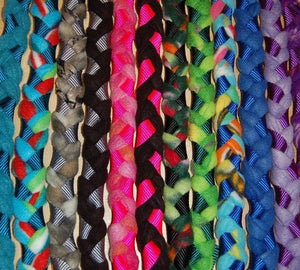 Multi Colored Braided Fleece Leashes ~ Handmade in the USA
Handmade Braided Leashes are made from durable, thick braided fabric.  These come in a variety of popular colors and are great for agility competition, training, or everyday use. 
Ideal as a motivating "tug leash" for agility.  These are safe for your dog's teeth and comfortable for your hands.  
Braided Leashes are made of Multi-Colored Fleece reinforced with a Solid Colored Webbing and a knotted handle. Choose from: 
Purple (grape), Royal Blue, Hot Pink (pictured), Green (emerald), Red, Blue Jay (lighter blue), Black, Orange, Black And White (zebra). These are all braided with black fleece. 
Size: approximately 5 feet long.
Hardware: choose from a regular size clip or small clip for small breeds.
Care: hand wash and drip dry.