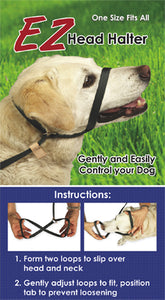 One Piece Halter & Leash Combo - ONE SIZE FITS ALL!
If your dog needs more control than a collar and leash provide, then this dog halter is a great tool. The figure-8 style halter can be adjusted to fit any size dog, and the adjustment slides on the leash tighten behind the head to help prevent neck injuries. The super soft webbing to reduce chafing caused by rougher head halters.

The EZ Halter & Leash is machine washable and very durable. Made in the USA and guaranteed against any defects in workmanship or materials.
The EZ One Size Halter is one continuous length of webbing comprising the halter and a built-in matching leash.
Directions: Adjust the two slides to set the size. One slide sets the size, then the second serves to lock the first slide in place. The point where those slides rest could be considered the boundary between "halter" and "leash." Not that it matters with the One Size EZ Halter, but it's helpful for this explanation. The length of the leash will vary between approximately 50" to 60", depending on the size of the dog. The larger the dog's head the more webbing will be used for the halter, which makes the leash a bit shorter. So, the largest dog will have about 50" of leash and the smallest dog about 60".