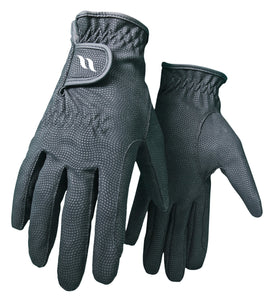 Outdoor Gloves
Back on Track Gloves to wear outdoors, while training your dog, driving, riding your horse or enjoying any of your favorite adventures!  You will love the cozy lining and the exterior is grippy, so you will not need to remove these to get accomplish tasks.
Shell: Polyester with Polyurethane Coating
Lining: Polypropylene Ceramic Textile
Sizes: Measure length from middle finger to bottom of hand/top of wrist.

Size    Measures
6.5      6"
7         6¼"
7.5      6¼"
8         6½"
8.5      6½"
9         6¾"
9.5      6¾"
10       7"
10.5    7¼"
11       7½"
11.5    7¾"

Note: Tend to run small, so we suggest you order up a size from what you would normally wear.

Color: Black