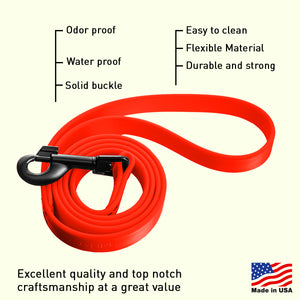 NEW Biothane Long Line ~ Waterproof with Durable Brass Hardware
When safety, clean-ability, flexibility, and strength are crucial, this Biothane Long Line for dogs will hold up to the swampiest environments, dry and odor free, without loss of flexibility.

FEATURES:
EXCELLENT PERFORMANCE: this leash will not get stiff during extreme cold and will not melt during extreme heat.

MORE DURABLE: it has a substrate core bonded with a waterproof coating, perfect for conditions where strength and cleanliness are crucial.


SUPER STRONG: heavy Biothane webbing has up to 750 lbs of breaking strength for safety and much stronger than leather leashes.

SOLID BRASS HARDWARE: ideal for any active dogs and working dogs in law enforcement or military operations. Will not rust.

EASY CARE: Biothane can be wiped clean with a damp cloth to remove dirt. Because it is waterproof and smell-proof, the leash retains its pristine appearance for the life of your dog.

TANGLE FREE: No more knots!

MADE IN THE USA: only the highest quality materials are used.

Important: NOT a chew proof material; do not use as a tie out.
Choose Sizing: Length is 10' or 15' and Width is 1/2 or 5/8".

Colors: Orange or Black